Titanium clad copper
Over 30 years of experience

TiCu Clad® – titanium Clad bars are made by using compound extrusion presses which ensures an optimal metallurgical bond between the copper core and the titanium coating.
The TiCu Clad® material is generally used in electrochemistry, in chlor-alkaline electrolysis, in galvanizing lines, in chromium-plating baths and wherever high corrosion protection and high current-carrying capacities are required.

Applications
Dimensionally stable anode in chlor-alkaline-electrolysis
Busbars for supplying current in elecctro-zinc coating lines for strip products
Busbars for supplying current in galvanizing lines for steel strips
Busbars for supplying current in continuous coating lines for wire, tube and strip plating
Busbars for supplying current in galvanic baths, printed circuit board industry, frames, support bars
Busbars and anodes for the metal finishing industry
Busbars for supplying current in electrolysis plants/metal recovery
Coated titanium anode for chromium-plating instead of conventional lead anodes
Copper foil production
Electrodes for cathodic protection in corrosion systems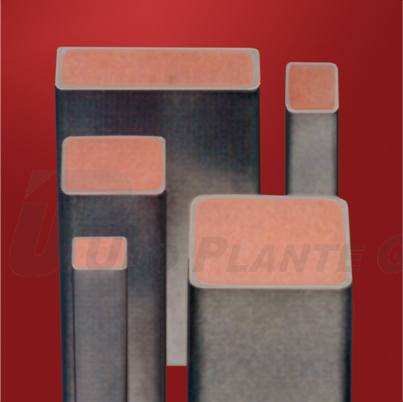 Environmentally friendly chromium-plating with TiCu Clad® anodes
Using TiCu Clad® anodes, platinated with titanium in the micron range, has a distinct advantage when chromium plating in sulphuric acid electrolytes. Due to increasingly more strict environmental standards as well as expensive waste disposal, the market requires processes which allow a more environmentally friendly hard- and bright chromium-plating in fluoride-free electrolytes.
TiCu Clad® process is a process that eliminates production of hazardous waste such as lead chromate which is usually produced during the chrome-plating.